So much of our lives revolve around food and eating! We need to nourish our bodies with a variety of healthy foods in order to grow and thrive, to focus throughout the day, and to have energy to complete daily tasks. Food is also a strong component of our socialization. Whether it is Sunday night dinner with the family, your annual 4th of July picnic, or your child's birthday party, food plays a strong role in our interactions with others and should be a source of enjoyment!
Many children struggle with food – whether it be the smell, the texture or a mechanical issue with drinking and eating. Not only does this cause medical issues with your child's health, it can also create an overwhelming situation during times that should bring excitement and joy. Our clinicians provide a play based and sensory approach to treating feeding concerns. Through the utilization of a variety of techniques, our clinicians create an environment that fosters safety and confidence within your child and encourages them to explore, experiment, and improve their comfort with and around food.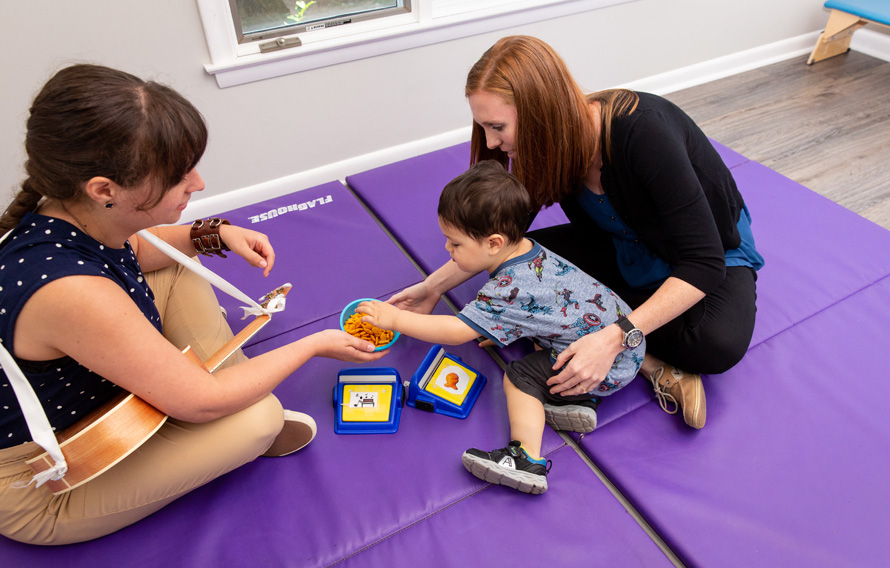 The SOS Approach to Feeding
The Talcott Center utilizes The Sequential-Oral-Sensory Approach (SOS) to Feeding, a highly renowned and effective approach for the assessment and treatment of children with feeding difficulties. Developed by Dr. Kay Toomey, pediatric psychologist, and her transdisciplinary team, the SOS Approach to Feeding revolves around the foundation of "typical" developmental steps and stages of feeding. During assessment and treatment, the whole child is taken into consideration, not just an isolated skill or concern.
The SOS Approach to Feeding integrates the following factors:
Behavior and learning
Medical considerations
Motor skills
Nutrition
Oral factors
Sensory processing
Treatment sessions follow a set routine that is predictable for each child and utilizes a specific, systematic desensitization hierarchy of skills. This 32-step hierarchy is used for each food item presented and provides a clear outline for progress and mastery.
If your child is struggling with feeding and/or overall growth or weight issues, our skilled clinicians can provide support. Following an initial assessment, we can make recommendations for individual treatment, group therapy, or further outside testing if necessary.
"Snack Pack" Feeding Group
When it comes to addressing feeding skills, working with a peer is often optimal! Our Snack Pack feeding group utilizes the SOS Approach to Feeding. We have designed our group to assist children in improving their acceptance of new or undesired foods, as well as improve their oral motor feeding skills, in a peer-filled setting that is fun and interactive! This group helps to foster a positive relationship with food and mealtimes, while encouraging growth and improved nutrition.