Caring. Dedicated.
Experienced. Focused.
Providing Exceptional Services since 2004.
The Talcott Center for Child Development is a privately owned, pediatric therapy center that opened its doors in 2004. The center was founded with the goal of creating comprehensive, quality programs for children with special needs, where parents and caregivers could become a welcome part of our family and feel confident that their child was receiving the highest level of care possible.
We provide a wide range of treatment options for your child including occupational, physical and speech therapy services, as well as Applied Behavior Analysis. In additional to individual and group services, we also offer a Comprehensive Autism Day Program.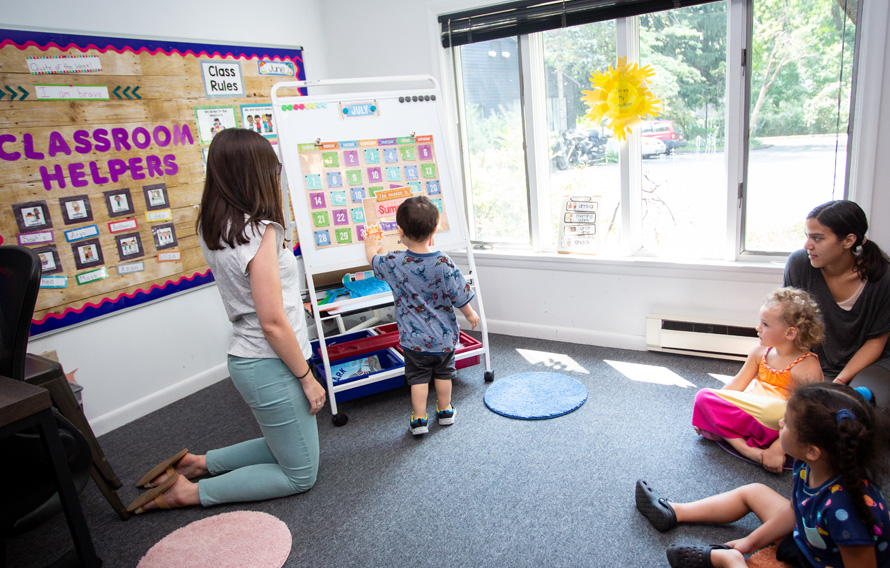 From your first phone call to our center, to your last visit, we are dedicated to making your experience with our center positive and supportive. Prior to initiating services with us, you will sit down with our administrative team to discuss your child, their joys and concerns, the path you have been traveling on and the journey you would like to embark on! It is your time, as a parent or caregiver, to openly and freely share the struggles and worries your family has faced and all the accomplishments you have experienced. It is your time to express the aspirations you hold for your child not only today, but for years to come!
During that first meeting, your child's history will be reviewed, including their physical, social and emotional development. We will discuss previous treatment(s) your child may have received and current services they are involved in, if any. In addition, you will be educated on the services we have to offer, as well as what programming will look like at our clinic.
From there, an assessment and global treatment plan will be recommended, and your child will be paired with the therapists who may best meet their needs. By meeting with our team prior to initiating services, together we can discuss the treatment process, and collaborate on goals for intervention. Thus, expectations are clear from the start. We value the relationship you form with our center. By working closely with our administrative team, you will always have a point person who will assist in coordinating services, communicating with your clinician, and ensuring cohesive programming.
Husband and wife team, Fran and Kelly Massucci, developed the concept for The Talcott Center for Child Development in the fall of 2003. Their vision to create a comprehensive center, focused on providing quality, multidisciplinary services, quickly flourished and they first opened their doors in June 2004. With Kelly's clinical knowledge and Fran's business and marketing expertise, The Talcott Center grew exponentially over the years to offer a broad range of much needed services, while consistently growing and altering programs to meet the changing needs of families. Fran and Kelly take pride in the fact that The Talcott Center has never compromised the quality of services they have provided. Families come first at the center and the entire Talcott team has been, and always will be, dedicated to making our clients our top priority.
Today, Fran and Kelly are working together to develop new business concepts and software related programs that can reach a greater number of children with special needs. They are excited to introduce their new programs into the community, as they are in the final stages of development.
Steve is a business and management consultant with over three decades of experience across a variety of industries. He has managed large teams of business and technology professionals and has successfully founded, built and sold two IT consulting firms. Steve manages day to day operations at The Talcott Center, ensuring all back-office functions supporting each our treatment disciplines work in a seamless and efficient manner. Steve also works closely with Kelly to ensure strategic initiatives are communicated with discipline leads and executed to meet our overall client and business objectives. In his spare time he enjoys cycling.
Bri-Anna received her Associates of Science Degree at Lincoln College of New England. She started her career at the Talcott Center for Child Development in February 2019 as a Certified Occupational Therapy Assistant running Social Skills groups. She then moved into the role of facilitating the ABA Autism Day Program and now is the Scheduling and Authorization Coordinator for The Talcott Center. Bri-Anna enjoys spending time with her family, listening to music, and spending time outdoors.
Shannon Michelson is our front office, medical receptionist. She handles new family calls, client management, billing and other office tasks. Shannon has previously worked with the Autism population within a specialized Autism center, serving as a teaching assistant within their school program, as well as a direct care staff member and residential supervisor within their group home. Currently, Shannon is pursuing a Master's degree in Policy and Community Organizing at Sacred Heart University. In her free time, Shannon loves hiking outdoors with her rescue dog, Cleo!
Cheryl Davidson works within the administration office, primarily focusing on insurance eligibility and benefits, as well as troubleshooting insurance challenges. Previously, Cheryl worked with Autistic teenage boys within a therapeutic group home. She currently lives in West Hartford with her 2 Portuguese Podengos – Rollo and Charlotte. Cheryl loves reading, gardening, hiking with her dogs, and spending time with her 2 young granddaughters.
Victoria (Tori) Desjardin is a Licensed and Board Certified Behavior Analyst, who received her Master's Degree in Applied Behavior Analysis from Western Connecticut State University in 2018. She has worked at The Talcott Center for Child Development since November of 2019. She currently serves as the Director of ABA Services for the ABA Department. Tori's career has been focused on children ranging from the Birth to Three, private practice, to school-based services.
Caitlin Malicki is a registered and licensed Occupational Therapist who received her Master's Degree in Occupational Therapy from the University of New Hampshire in 2017. She has worked at The Talcott Center for Child Development since October 2018. She currently serves as the Head of the Occupational Therapy Department. Caitlin's career has been focused in pediatrics including clinic, school, and community-based settings. Caitlin is an SOS Trained Provider, and currently provides feeding therapy through one on one sessions and groups. Outside of work, Caitlin enjoys spending time with her husband, visiting the beach and vacationing in Maine.
Kevin started working at the Talcott Center in March of 2016 as an ABA therapist. He then moved on to become the facilitator of the ABA day program. His current role as Operations Lead, finds him doing a variety of human resource tasks, helping to onboard new staff, as well as marketing and promoting the center and its services. Kevin can still be found working directly with our clients when needed! When not at work, Kevin enjoys spending time with his wife and two dogs.
Ashley Cascio originally began her career at The Talcott Center for Child Development in 2020 as an ABA Therapist, and now currently serves as our Day Program Facilitator! Ashley began her initial career as an ABA Therapist after earning her Bachelor's Degree from the University of Connecticut. Within her studies, she focused on Human Development and Family Studies. Ashley holds 8 years of experience working with children in the school setting, clinic setting and birth-to-three services.
Dana Prifti is a Licensed and Board Certified Behavior Analyst, who received her Master's Degree in Special Education from The University of St. Joseph in 2013, and her certification in Applied Behavior Analysis from Florida Tech in 2018. She has worked at The Talcott Center for Child Development since October of 2020. Dana currently serves as Behavior Analyst and Social Media liaison for Talcott Center. Dana started her career in special education as a paraprofessional in Simsbury schools in 2007, and has been focused on helping children ever since, working in from the Birth to Three and in-home services. Dana lives in Simsbury with her dog, Beau.